Oregano - Origanum Vulgare (10 ML)
Oregano is best known for its use in cooking, however its therapeutic uses go beyond just adding flavor. Oregano essential oil contains anti-microbial properties, including anti-viral, anti-bacterial, and anti-fungal. It can be diluted in water and taken orally or diffused into the air.

Method of Extraction - Steam Distilled
Cultivation - Organic
Aroma - pungent, spicy and herbacious
Traditional Uses & Benefits
anti-viral

anti-bacterial
anti-fungal
Diffusion: 
Diffuse three to four drop in the diffuser of your choice.
Internal use: Dilute one drop in 4 fl. oz. of liquid.
Topical use: Apply one to two drops to desired area. Always dilute with a carrier oil to minimize any skin sensitivity. Always test a small amount for skin sensitivity before regular use. See additional precautions below.
Possible skin sensitivity. Keep out of reach of children. If you are pregnant, nursing, or under a doctor's care, consult your physician. Avoid contact with eyes, inner ears, and sensitive areas.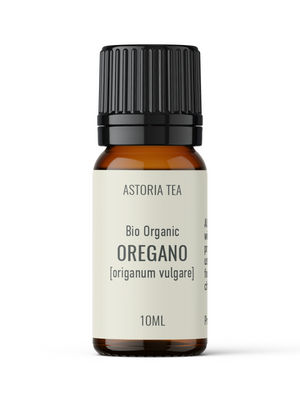 Teaware
Use a glass or ceramic tea pot, french press or electric kettle with loose leaf infuser for optimal flavor.
Brew Guide
Add boiling hot water or 212°F to your herbal tea and let steep 5-10 minutes. You can steep for up to 15 minutes for stronger potency.
Long Infusions
To make a long infusion, let your tea pot or french press fall to room temperature after steeping and place in the fridge with the herbs still in the pot and let steep overnight or until desired temperature.